NAM model showing position of
Colorado low at 6 pm Friday eve.
Swath of heavy snow and strong
winds will be bringing blizzard
conditions to Winnipeg late Fri
A
blizzard warning
has been issued for the Red River valley including Winnipeg as a Colorado low tracks into central Minnesota by Friday evening. This storm system will be spreading a large swath of snow over southern Manitoba Friday through Friday night with increasing northerly winds as the storm gets closer. The worst conditons in Winnipeg and RRV are expected Friday night into Saturday morning when winds will be gusting to 70 km/h giving very poor visibilities in snow and blowing snow. Travel will be severely impacted by this storm, with road closures quite possible including the TransCanada Hwy. Be sure to check
MB highways website
for latest on highway conditions before travelling.
Before the main event, a cold front pushing through southern MB tonight will usher in colder air from the north with some snow or freezing drizzle developing overnight. Snow will continue through the day Friday before it starts intensifying in the afternoon and evening. Snow will become heavy at times, and with strong northerly winds gusting to 70 km/h, blizzard conditions are expected Friday night into Saturday morning, especially outside the city. At this point, it appears that Winnipeg will see about 10-20 cm total snowfall by Saturday morning with this storm, with higher amounts possible outside the city. The snow however will not be the main story, as the strong winds will result in heavy drifting and blowing snow, along with poor visibilities. The western RRV between Winnipeg and Portage will be especially bad given the full fetch of strong NNW winds off Lake Manitoba. Conditions are expected to improve by Saturday afternoon as the storm system tracks into NW Ontario.
Blizzard warnings
are issued by Environment Canada for storms that will bring at least 4 consecutive hours of visibilities of 1/4 mile (400 metres) or less in snow and/or blowing snow, along with sustained winds of 40 km/h or more. Specific thresholds of snowfall are not required for blizzard warnings, as they are based on visibility criteria, not snowfall amounts.
Follow the storm on radar!
Click on
radar viewer
from
A Weather Moment
to follow progress of snow as it heads into southern Manitoba.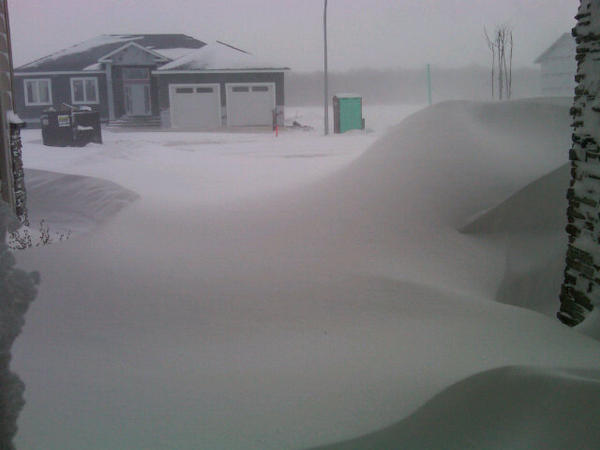 An example of the heavy drifting
near Winnipeg caused by Friday's
blizzard. Winds gusting to 75 kmh
and 10-15 cm snow produced
extensive blowing and drifting snow
Here's a good example of what a "limited" snowfall of 10-15 cm can do when it's whipped by hours of 50 to 70 km/h winds accompanied by cold temperatures in the minus teens. Local drifts can be much higher than the snowfall amounts suggest, particularly in exposed areas.
Photo tweeted by @loco372