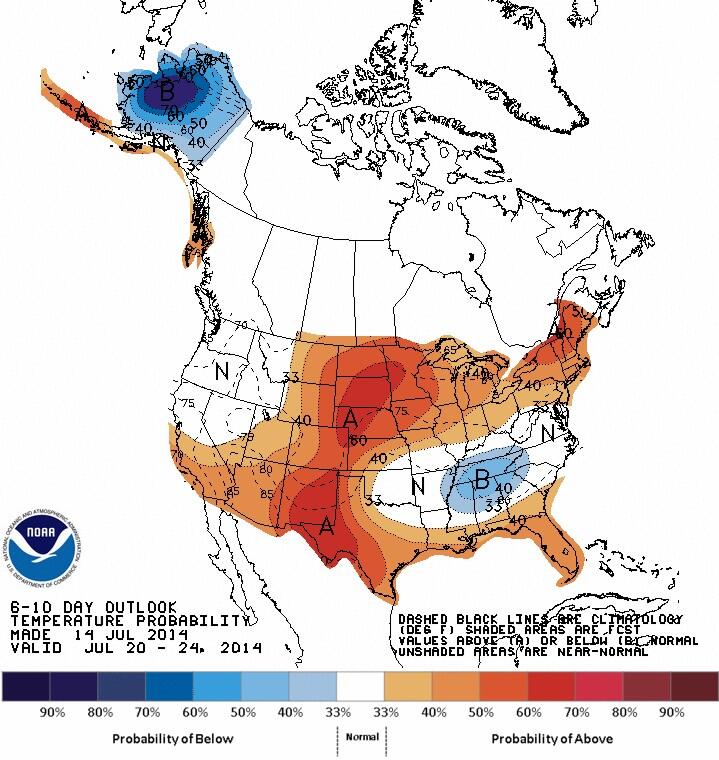 CPC 6-10 day outlook valid
Jul 20-24 indicates return of
warmer air over southern MB
After a record cool Sunday (max of only 15.7C), temperatures will be on an upswing this week as a deep vortex over Ontario shifts east and weakens. This will allow warm air over western and northern Canada to spread east into southern Manitoba over the next few days, along with plenty of sunshine. Temperatures will climb to 23C Tuesday and reach seasonable highs of 26C by Wednesday. The heat will return for the end of the week with temperatures expected to hit the 30C mark Thursday and Friday. Things get a little more uncertain for the weekend, with models hinting at some showers or thunderstorms by Sunday with increased humidity. After that, indications are that temperatures will climb above normal again for early next week. All in all, looks like a nice taste of summer coming up after a brief flirt with fall Sunday!